Can you believe Thanksgiving is just around the corner? It's just a few weeks away and it's always hard to figure out what to wear. Let's be honest, on Thanksgiving not only are you thankful for friends and family, but you're also thankful for the food, right?! Well, at least I am!
Knowing what to wear on Thanksgiving is quite challenging at times. You want to look nice, but if we're being honest, you can't wear any tight clothing because you better believe you are going to get full. The amazing thing about fashion is that you can find a stylish outfit that still gives your tummy room to breathe. That's why I'm extremely thankful for items such as tunics and leggings. They give you extra room while still allowing you to dress up and look nice for a holiday event.
So I decided to put together an outfit that I would consider wearing on Thanksgiving that's also affordable. And you can snag this entire outfit on JoeShopping for under $100! I hope this inspires you and makes you think about what you would like to wear for the holidays. Personally I think jeans are nice, but they aren't as stretchy as leggings. It's no fun secretly unbuttoning that top button under your shirt because you can't breathe! Come on admit it, I'm sure we've all done it a time or two.
So what do you think of this outfit for the holidays?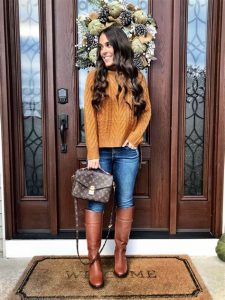 Gap Petit Women's Stretch Knit Leggings – $19.95
Leggings go with virtually anything and they keep your legs nice and warm during the winter months. For $19.95 you can find a pair of leggings from Gap that are soft and warm. Layer these supersoft stretch leggings under all the season's hottest dresses and skirts. If you want to learn about the coupons that are available for the Gap, head on over to the Gap coupons page.
One World Top, Kimono Sleeve Beaded Printed Tunic – $24.74
For a tunic top that has a unique and edgy appeal, wear a One World top. I love One World because they make quality tops out of durable material. Plus their patterns are always so much fun! This particular top shines with tie-dye influences, a variety of different patterns combined, and beads to boot! Paired with a pair of black leggings (like the ones above), I think you'd have a stylish outfit made.
Chinese Laundry Shoes, Desta Flats for Women – $29.50
I love flats because they are super comfy for your feet. If you are a girl that prefers to wear heels for a holiday get together, that's great, but isn't it a pain unbuckling them or putting them back on after the event when you're tired and full? That's why I prefer flats. They are soft, comfy, and depending on the brand that you select, finding a pair that won't give you blisters is important. Chinese Laundry has excellent products and flats that won't give you blisters. Plus they're super-cute!
Chunky Black Knobby Cable Knit Hat and Scarf Set – $22.99
Why not add some warmth to this Thanksgiving outfit with a soft and fluffy scarf? Any scarf that is knitted or crocheted is gorgeous and unique. This particular scarf seems to have the perfect combination of glitz and glimmer. Plus a hat and a scarf come together in this shopping package! Paired with your leggings and One World top, I think you'd look adorable!
Goldtone Owl & Clock Pendant Necklace with CZ's – $18.95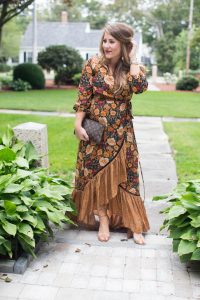 I happen to love the adorable owl trend that's going on. I think that this necklace is especially clever because it has a clock on the owl's tummy! Instead of wondering what time it is because you never wear a watch, wear an owl who would be happy to hoot you the time! Just don't keep track of the time you spent eating.
So check out your grand total = $96.18
Not bad for a Thanksgiving and late-fall outfit, huh?! I'm looking forward to Thanksgiving…are you? Now all I need to do is buy a stretchy and stylish outfit like this one!