I recently got a new smart phone that I'm crazy about (an Android HTC Incredible 4G LTE) but it is so hard to find phone accessories (i.e. creative phone cases) for it! However, I'm content with the few cases that I found on Amazon simply because I love the cell phone so much.
My cases are in two of my favorite colors: blue and pink sparkles. Oh, what I wouldn't give for a fun chevron case with the initials of my name on it! I won't give up my search.
With today's modern designs you have endless possibilities when it comes to accessories (for most phone designs). There are cases, phone charms, fun earphone buds, car mounts, and even more accessories to utilize and discover. Since I'm limited with only a few cases for my phone (even though there are many other accessories), I thought I would dream with you via this post and show you some of the awesome accessories that you can use with and on your phone!
Also, in case you were wondering, the reason why Verizon and Droid phones more specifically don't have a lot of phone cases is because there are SO many phones available, as opposed to an iPhone which is universal and the cell phone design stays the same. iPhone was smart if you ask me, but I still prefer my Droid!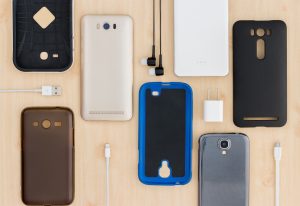 Personalized Phone Cases -Â
I love Etsy because they offer a ton of fun cases for your phone! One of my favorite covers is the Chevron Custom Design Cover by Swanky Press. It's colorful, trendy, and of course it has the option to have an initial. Love it.Â
If you're a dog lover other personalized cell cases include a Modern Dots Dog Silhouette iPhone Case (some Android versions too) and this Etsy seller has a lot more awesome designs as well. I absolutely adore the fun colors that she incorporates into the design as well as the adorable dog silhouettes that she creatively uses as well.
If you're looking for more of a child friendly phone cover there are fun covers like the Disney Stitch case that I came across on Amazon. It's definitely cute with his ears sticking out and the fun 3D like design. I'm sure there are many other Disney cases as well if you explore enough and find the type of case you're looking for.
Skullcandy Earphones
Moving on to earphones, Skullcandy happens to be my favorite brand name for earbuds that look stylish and are very functional as well. They come in many colors, feel comfortable in your ears, and make it easy for you to watch a Netflix movie late at night when your spouse and kids are sleeping but you want to stay up and watch a film instead! I personally want the Ink'd 2 Pink/Black ear phones because they are so stylish!
Cases to Put Your Smart Phone In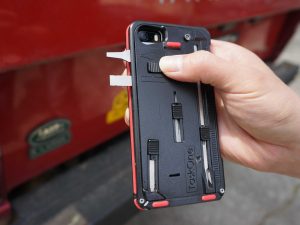 In order to keep your smart phone in great condition, there are also durable and fashionable cases to put your cell phone in when you're on the go. I admit I don't have one of these for my new cell phone yet, but I definitely want one! They provide just an added layer of protection to your cell when it is in a purse that gets bumped around a lot. Plus, I have to admit it's yet another fun accessory to own that will add the right amount of pizzazz to your phone as well.
Check out this Smart phone case on Etsy by Honeycrush. It's an envelope cover that's super trendy and cute! It will keep your smart phone safe from harm and if you want to just bring your phone with you on the go and slip a credit card and cash into it, I think it work perfectly for that too!
If you're into something a bit more simple and classic you can opt for a black leather case couch or the eForCity Black SportBand Case for those of you who like to use your cell phone when you're at the gym! I know I love to use and bring my cell phone to the gym so that I can watch my favorite shows on Amazon.com or catch the last part of a movie on Netflix. Like I said, smart phones are extremely smart (literally) and are essentially our mini computers today, so it's fun to treat them as such!
So now that I've introduced you to many fantastic smart phone accessories, it's time to get hooked up and connected! I know that cell phones are going to continue to improve (if that's even possible), and I can't wait to continue to style up my phone even more as time goes on!