There is a home design trend that is really "in" right now that I just adore – wall decals. Basically they are just stickers that you place on the wall somewhere. They are such an easy way to decorate and add interest to a room. Small decals can simply add to the decor that already exists, whereas large decals can become the focal point of the room. I've seen a lot of pictures from Pinterest with wall decals for nurseries, but they really can be used anywhere.
I stumbled onto the RoomMates Peel and Stick website and found a few decals that I love that could be used in different rooms and settings. The prices are really reasonable and they even show the decals in a room type picture so that you can get an idea of what it would look like in real life. If you are a little nervous about wall decals, start with a kid's room or the kitchen area, where you can get a little playful and test a few out. Here are a few of my favorites from the website:
Alphabet – $12.99
This is the most common/well-known use of a decal – in a child's room or a nursery. I love that this decal is multi-colored and actually has a purpose! As your child grows, they can learn the alphabet. Each letter even has a little graphic to go along with the letter. Clever!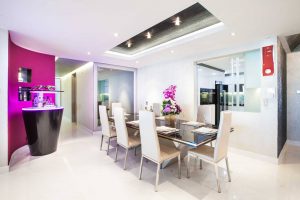 Cityscape – $19.99
Okay, so this one is kind of amazing, kind of freaky. It looks pretty realistic to me, which is really cool. I can definitely see this in someone's living room whose style is contemporary and modern/urban.
God Bless This Home – $6.99
I love the quote decals because they are simple and yet usually have a really profound (or sometimes funny) meaning. This decal would be perfect near the entryway of a home to greet guests as they enter. They have quotes for certain rooms and even for certain holidays!
Black & White Chalkboard – $12.25
This decal is SO neat because it adds a little interest to an area, but it also is functional. You can really write on the decal…it's like a chalkboard. This would be perfect for an office or playroom. They have several different chalkboard shapes (like drums, guitar, etc) that would be fun for a kid's room.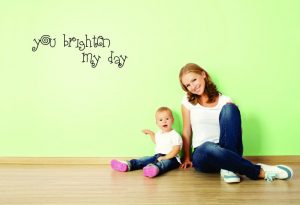 Those are just a few of the ones that caught my eye, but really I could go on and on. They also have sports themed decals (for the man of the house) and growth chart decals (for the kid's room). There are just so many fun ones! I love the ones that add interest, but also have a purpose – like the chalkboard and the alphabet decals. I have never tried the RoomMates brand personally, but they claim to be really easy to apply and remove, without messing up the paint or wall. I'm definitely going to give them a try and I hope y'all do, too!
Oh, and guess what? There's a coupon right now for 15% off the entire site. Now go shop.
Have y'all ever tried/seen a wall decal? Which one would YOU buy?