As is pretty standard for young girls, I dreamed of working in the fashion industry from a young age. After a brief designer phase where I sketched out wedding dresses, I moved onto fantasising about being a writer for Vogue, and finally settled on fashion buying with the chance to travel and earn big bucks. It was whilst studying for my degree in Fashion Promotion however, that I started to become disillusioned with the whole thing.
What's the Problem?
The problem for me was the unethical, unsustainable side of the industry which I had only caught glimpses of in the past. Suddenly sweatshops and the throw-away nature of fast fashion became all too real for me and for the first time in probably eight years, I started to question whether I wanted to work in the industry at all.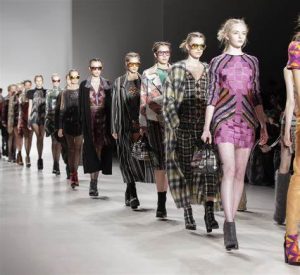 Over the last three or four years I have dedicated a big part of my life to trying to understand whether ethical fashion can exist. I have volunteered for ethical organisations, blogged about ethical fashion issues and completed a Masters degree in ethical fashion. During this time I believe the industry has started to see real change, although it still has a long way to go. There have also been many concerns about 'greenwashing' – whether these businesses actually want to change or whether they are just doing their best to appear that way.
Is There a Solution?
There is a certain element to greenwashing in some companies, but the vast majority I believe are trying to do the right thing. A lot of fashion students are choosing to study ethical fashion for their dissertations and final design collections and a number of college courses and modules have popped up in recent years to meet demand from both students and the industry. There are a range of opportunities available for ethically minded fashion lovers, from small consultancy organisations to large high street retailers. Roles include ethical sourcing/trading, CSR and design.
It is sometimes worried that CSR is a public relations role, primarily concerned with displaying an ethical image for a company. This is more down to individuals however to push real changes forward. Plus getting consumers on the ethical bandwagon is half of the battle, and communication is vital. The problems arising most often in the fashion industry is that supply chains become so long and complex, it is easy for managers to miss that fact that orders are being outsourced to unreputable suppliers. The fashion industry may not be considered the 'greenest' but rather than turn our backs on it in disgust/frustration, ethically minded individuals need to break into the industry to create real change.